English Learners Data
The warehouse has a number of dashboards and metrics related to English Learners and the ELPAC assessment.  Below are some key locations where you can find data points specifically related to ELs and ELPAC.  Additionally, there is a link to an interactive EL-ELPAC Data Map at the bottom so you can easily see all available EL data in the warehouse.
1. Filter for Language Proficiency
Using the Filter Data button, you can easily filter any dashboards and metrics to only show English Learners.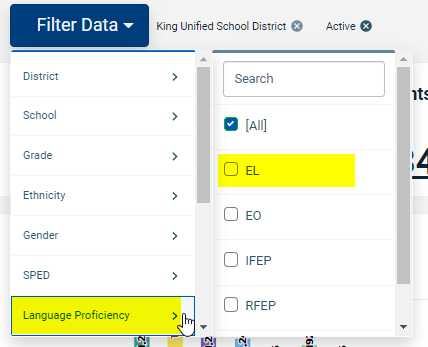 2. Dashboards specifically for English Learners
Here is a list of dashboards where you can find EL information
3.  Dashboards specifically for ELPAC
Here is a list of dashboards where you can find ELPAC information