Service Link App
School Linked Services (SLS) provides students, children and families in Santa Clara County with school-based coordinated services to address needs and well-being gaps of families through a community participatory approach. SLS Coordinators, located at the school district or a school site, develop partnership with schools, public agencies and community based organization in Santa Clara County to improve protective factors (e.g., family relationship), decrease risk-factors (e.g., behavioral and emotional problems), enhance service accessibility and resource linkage, and to support children's success in school and in life.
There are four essential elements in SLS initiative:
Service coordination

Family engagement

Campus collaborative

Co-investment
What is the Service Link App
The SLS "Service Link" application (Service Link App) allows SLS school coordinators to log referrals to Behavioral Health Services.  These referrals are then stored in the application's database and matched with data elements from the DataZone data warehouse. At quarterly intervals throughout the school year, SLS coordinators can export a standardized excel report from the Service Link application. This report is composed of de-identified data elements that are submitted to the Behavioral Health Services Department (BHSD), which in turn uses the data for monitoring and evaluation of SLS program outcomes.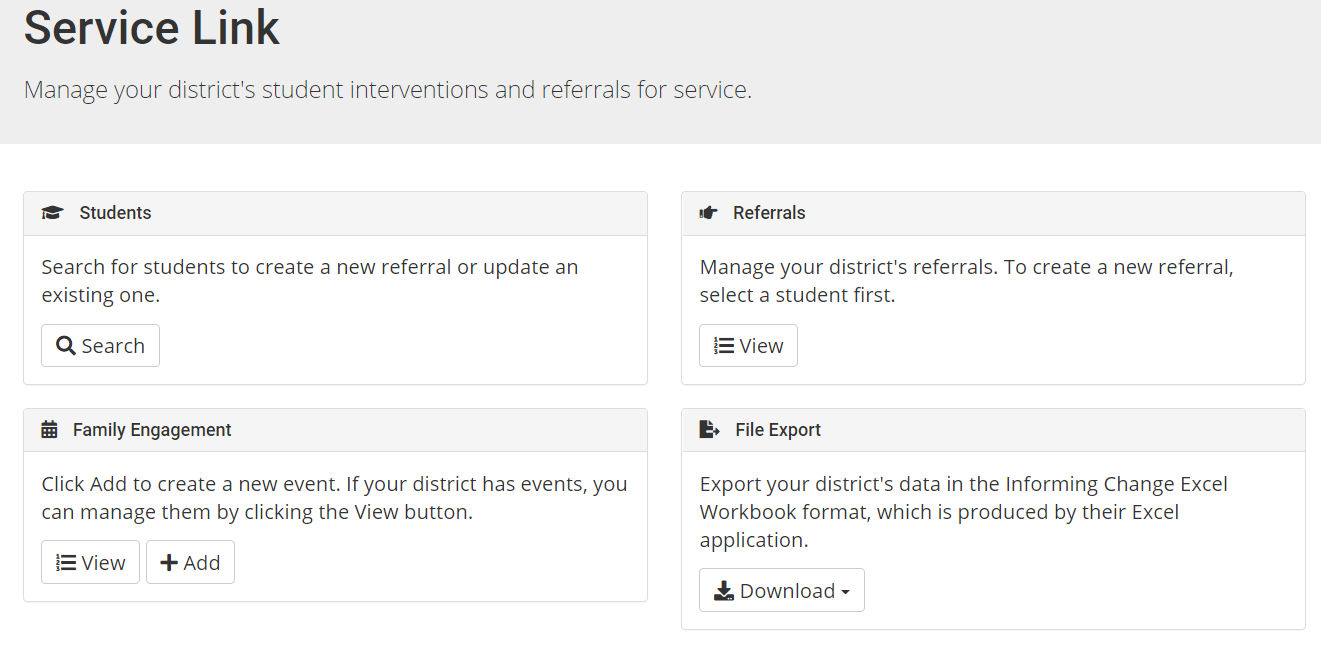 The Service Link Application is a feature provided to SLS coordinators via the Santa Clara County Office of Education's data management system. The Service Link App tracks student referrals to services and monitors if the students were successfully "linked" to a service(s). For coordinators whose districts have DataZone subscriptions, data visualization is available in the Early Warning dashboards. This allows for easy analysis of service and interventions provided to students. The Service Link Application is integrated into the DataZone data warehouse platform, and is dependent on the DataZone platform for user authentication. This provides the necessary security measures to ensure that only key staff members have access to the student data. The application relieves the data entry burden for SLS Coordinators by pre-populating data fields for the necessary report. The app's integration with DataZone automates the match of students receiving services with all of the required student demographic and outcome variables from DZ and creates an export file required for SLS data evaluation purposes.
The Service Link App allows School Linked Service Coordinators to:
Streamline the data entry process (eliminates the need to manually enter student demographic data)

Input data formatted in a consistent way

Download/extract data in specified/standardized format and de-identified.

For DataZone subscribers, view referral data in DZ dashboards.
Have questions about SLS or the Service Link App? 
Reach out the support team:
Santa Clara County Behavioral Health Services Department
Catherine Aspiras
Program Manager III
MHSA INN #13 Implementation, CHR-P/REACH, SLS
County of Santa Clara Behavioral Health Services Department, Family & Children's Division
Santa Clara County Office of Education
Meaghen Spencer

Manager, Data Services